What We Do
The River Oaks Community Center is striving to create services and/or varied entertainment to area citizens. As time permits, programs and various entertainment activities of the Center will be developed and offered to the community. Area residents are encouraged to watch the large marquee sign located on the front lawn for upcoming events. Internet visitors can check back often to the Home Page for the latest updates. THANK YOU FOR VISITING
Staff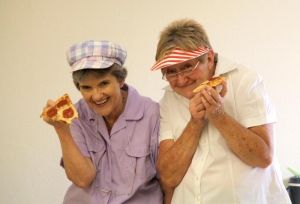 Light hearted moment with River Oaks Event Center Directors:
Shirley Bloomfield and Shirley Wheat

Mr. Chance Dorman is our current Maintenance Supervisor.

Thank You to Linda Baker, who was one of the original directors over 3 years. After she retired, she still continues to be very active at the center. We appreciate her past and current help of dedication & service to the Event Center.